Regular price
Sale price
$15.00 USD
Unit price
per
Sale
Sold out
Cruciamentum " Charnel Passages " cassette Tape
EU version released in 2022 limited to 150 copies on Blue clear tapes
With just a demo and an EP released under their repertoire, UK death metal band CRUCIAMENTUM already had a reputation as one of the most prominent death metal prospects today ever since main visionary D. Lowndes formed the band in 2008. With not even a full-length album released to their name, the band have already brought an awareness to the genre akin to what their counterparts in DEAD CONGREGATION and GRAVE MIASMA (in which CRUCIAMENTUM share two members with) have brought forth within the modern age of death metal as one of the leading bands within the new era of the genre.
Even though at the time, with just their "Convocation Of Crawling Chaos" demo from 2009 (recognized as one of the best demos of modern-day death metal) and their "Engulfed In Desolation" EP from 2011 under their belt, the band were quite active on the live front respectively. Having done several European and U.S. mini-tours, along with playing a decent number of exclusive shows with bands such as Dead Congregation, Grave Miasma, Sonne Adam, Anhedonist, (one U.S.-run CRUCIAMENTUM did even featured a very young Pallbearer on a couple of shows, and coincidentally as an aside it was CRUCIAMENTUM main man D. Lowndes who mastered Pallbearer's debut album "Sorrow & Extinction"), and played notable festivals such as Hell's Pleasure, Killtown Deathfest, and Black Mass Ritual in Europe and Maryland Deathfest, Chaos In Tejas, Rites Of Darkness (twice), and Martyrdom in the U.S. All this without the band having even released a full-length album.
Following a slight hiatus which would eventually befall the band, CRUCIAMENTUM would inevitably resurrect itself to finally deliver their debut full-length album the death metal scene has been anticipating. Entitled "Charnel Passages", this sees CRUCIAMENTUM deliver their mightiest work yet and has already been deemed as one of the most anticipated death metal albums of the year. "Charnel Passages" is true dark death metal majesty in every sense of the word and will stand as the death metal monument of 2015. With dark atmosphere, pummeling brutality, and skillful playing all rendered with a clear yet massive, warm, and natural-sounding production, "Charnel Passages" will make its impact on the death metal scene and stand as a modern-day death metal milestone.
A1: The Conquered Sun
A2: Necrophagous Communoion
A3: Tongues Of Nightshade
A4: Rites To The Abduction Of Essence
B1: Piety Carved From Flesh
B2: Dissolution Of Mortal Perception
B3: Collapse
Limited to 150 on Blue cassettes.
Pro printed 8 panel insert.
Share
View full details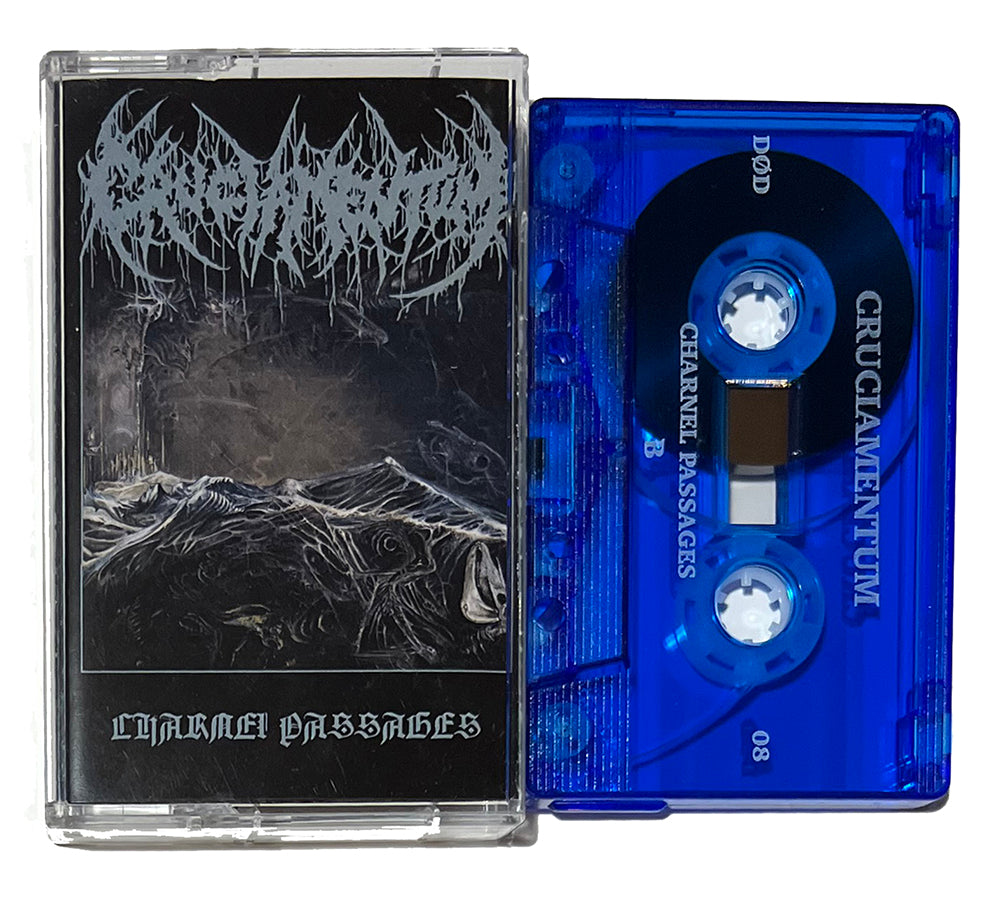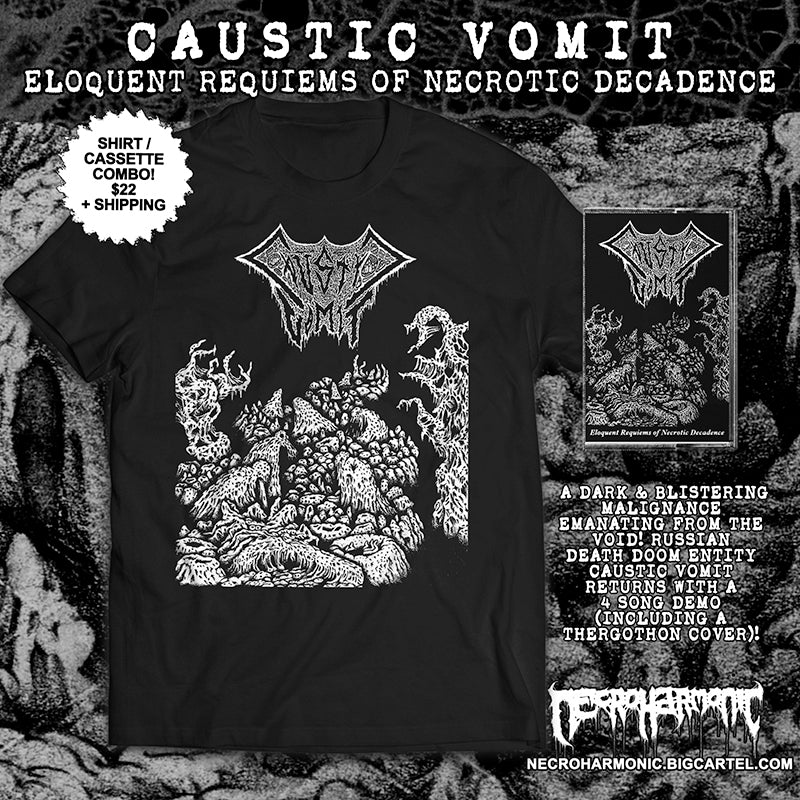 New release
Caustic Vomit - T shirt + Cassette combo
Check out our massive selection